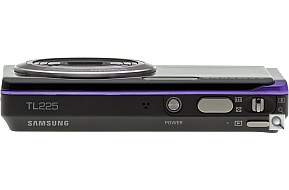 $260.14
Samsung DualView TL225 Overview
by David Elrich and Stephanie Boozer
Review Date: 07/15/2010
The Samsung DualView TL225 (also known as the ST550 in some markets) features a 12.2-megapixel sensor with a 4.6x zoom lens. The Samsung TL225's lens ranges from 27mm - 124mm equivalent, a generous wide-angle to a moderate telephoto. Maximum aperture varies from f/3.5 to f/5.9 across the zoom range. The Samsung TL225's lens includes optical image stabilization, which should help reduce the likelihood of blur caused by camera shake, as part of what Samsung terms Dual Image Stabilization. The other part of the function is Digital Image Stabilization, which combats blur using the camera's firmware, automatically raising the camera's ISO sensitivity as needed.
The Samsung TL225 also has a 3.5-inch widescreen LCD display with 1,152,000 dots of resolution, which equates to around 384,000 pixels. This unusually high-res display features a touch panel through which most control is achieved. The Samsung TL225's Smart Gesture user interface recognizes specific fingertip gestures on the touch panel and responds accordingly. For example, tracing your finger in a cross mark on the screen will delete the current photo, while tracing a circle will instead rotate it. To switch between photos, you simply drag your finger to one side across the panel. In addition, the Samsung TL225 includes an orientation sensor, which allows you to switch between photos by tilting the camera body to one side or other. The LCD touch panel is also used in record mode, with a tap of the finger on your subject being all that's needed to manually set the focus point. Holding your finger over the subject for two seconds will set focus and then trigger the shutter; alternatively you can press the shutter button immediately after focus lock is achieved. In addition, the Samsung TL225's display offers haptic feedback, which uses a slight vibration of the display surface as a method of tactile confirmation when the user presses an on-screen control. This vibration is accompanied by a beeping sound as a further form of confirmation. Either of these can be turned on or off individually.
A particularly unusual feature of the Samsung DualView TL225 is the secondary color LCD on the camera's front surface adjacent to the lens. Samsung describes this display as being hidden, as it shines through a clear plastic cover on the front of the camera; a tap of the finger on the display brings it to life. It serves as an alternative to the articulated displays found on some cameras, which can often be tilted and/or swiveled so as to allow them to be seen from in front of the lens -- useful for self portraits and group shots using a timer. The front-panel display is also significantly smaller and lower resolution, at just 1.5-inch diagonal and 61,000 dots. Samsung also uses the front-facing LCD as a countdown display for timer shots (ensuring everybody knows when to smile), a "smiley face" icon displayed when smile shutter is being used, and a display of certain key setup variables such as flash or macro modes via icons. Perhaps most unusually, the front display can show a brief clown animation when the camera is in Children mode, intended to catch your child's attention so they look directly at the camera while their photo is taken.
The Samsung DualView TL225 includes face detection capability with both smile and blink detection functions, which can be used to automatically capture a photo when everyone's smiling, and then retake the image if anybody blinks. There's also a "Beauty Shot" mode which smooths skin tones on detected faces, and offers three user-selected levels of smoothing. The face detection is also used to offer a Red-Eye Fix function which automatically locates and corrects for this common image defect. In addition, the TL225 includes Smart Face Recognition technology, which allows twenty individuals' faces to be registered in-camera and then recognized in subsequent shots. Once identified, those individuals' faces will be given priority over unrecognized faces in the scene when determining exposure variables, and can also be searched for in the Smart Album playback mode. The Samsung TL225 also has a generous selection of scene modes aimed at keeping things approachable for beginner photographers while still offering a degree of control over images, plus a Smart Auto mode which automatically selects one of 16 scene modes as appropriate to the current scene.
The Samsung DualView TL225 has the ability to record standard or high-definition movies with sound at 30 frames per second in H.264 format, with a maximum resolution of 720p (1,280 x 720 pixels). Connectivity options include HDMI video via an optionally available adapter allowing the camera to be connected to the latest high-definition displays. Alternatively, the Samsung TL225 includes standard-definition NTSC / PAL video output. Power comes courtesy of a proprietary SLB-07A lithium-ion rechargeable battery. The Samsung TL225 stores images on the tiny microSD / microSDHC card format, or in 55MB of built-in memory.
The Samsung DualView TL225 began shipping from September 2009, with a street price of about US$299.