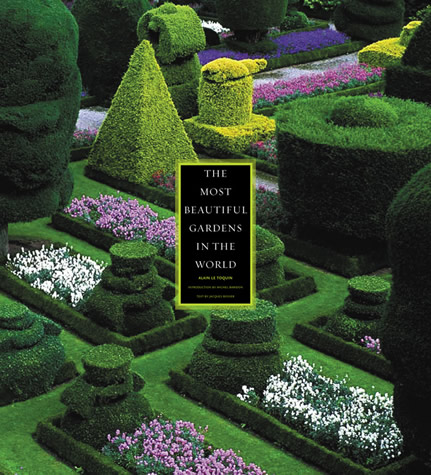 Photographer: Alain Le Toquin; Text: Jacques Bosser
Gardens are unique creations, reflecting not only the landscape, flora, and climate of their environments but also the heritage -- the history, architectural styles, and influences -- of the cultures that made them. From the fountain gardens of the Iranian desert to the whimsical "Garden of Cosmic Speculation" in Scotland, from the Zen gardens of Buddhist temples to the Impressionist gardens in Giverny, the huge variety of gardens around the globe is a testament to our age-old desire to tame and refashion nature.
In The Most Beautiful Gardens in the World Le Toquin celebrates the diversity of these manmade landscapes, capturing 32 of the greatest public and private gardens on five continents, including Majorelle in Morocco, the Versailles gardens outside Paris, the Keukenhof flower show park in The Netherlands, and the Huntington Gardens in California.
With more than 150 images and 12 gatefolds featuring spectacular panoramic photographs, this gorgeous book will captivate travellers and garden admirers alike.
From Publishers Weekly
Gorgeous photographs by French luminary le Toquin render this impressive coffee-table tome one of the most awe-inspiring garden books in years, and lively text by Bosser only heightens its appeal. The book's scope is grand--encompassing such exotic locales as Morocco, Singapore and New Zealand--but perhaps the most breathtaking photographs are of the unexpected garden havens in Iran. "The Persian garden was not designed for strolling. The prince was carried in his sedan chair to an open pavilion or to the edge of a pool to mediate, hear music, write verse or listen to recitations," Bosser writes when describing the ancient water garden of Bagh-e Fin. Fold-out sections provide panoramic views of such escapes as the jewel-toned gardens of Yves Saint Laurent's labyrinthine Marrakech oasis and a kitchen garden in Loire Valley, France, in which vibrant green, leafy cabbages take on the beauty of blossoms. Le Toquin displays his love of the more playful side of garden architecture in a stop at the Nymphaeum of Villa Visconti Borromeo Litta outside Milan, a stone pavilion built over a spring and decorated heavily with (what else?) stone nymphs, and makes the unusual choice of capturing the gardens of Versailles in winter; snow blankets the nude statuary and offers a unique view of the gardens' "bones." With its sumptuous full-color photographs, this visual tour is a necessary indulgence for armchair gardeners. A detailed section providing the location and contact information for nearly all the public gardens featured also makes it a handy reference for readers whose ambitions--and resources--equal le Toquin's own.
Copyright © Reed Business Information, a division of Reed Elsevier Inc. All rights reserved.